---
Astronom i saradnik Matemtičkog fakulteta u Beogradu Vladimir Ðošović istakao je da će Mesečev disk biti najveći na noćnom nebu ove godine i da se taj fenomen zove super Mesec
Autor : Bilten.rs , Izvor : Tanjug
Ove godine u Srbiji će se videti dva astronomska fenomena u vezi s Mesecom – pomračenje i takozvani super Mesec, rekao je danas astronom i saradnik Matemtičkog fakulteta u Beogradu Vladimir Ðošović.
On je kazao da je u toku faza punog Meseca i da se ta pojava može videti na nebu na svakih 29,5 dana, pa se tako može desiti da u jednom mesecu dva puta dođe do tog fenomena.
Ðošović je, gostujući na RTS-u rekao da Mesečeva orbita nije kružna, već njegovo rastojanje od Zemlje varira, pa će tako 13. jula ove godine dva nebeska tela biti najbliža ove godine i tada će mesec takođe biti i pun.
"Njegov disk će biti najveći na noćnom nebu ove godine i taj fenomen se zove super Mesec. Ono što je nama astronomima značajnije desiće se 13. maja, a to je pomračenje Meseca koje će se videti sa cele jedne Zemljine polulopte", istakao je Ðošović.
On je napomenuo da postoji uvreženo mišljenje kako su pomračenja meseca česta i dodao kako su pomračenja sunca zapravo češća.
Objasnio je da to izgleda, jer se pomračenja sunca ne vide sa tako velike površine Zemlje kao pomračenja Meseca.
"Tako je u Srbiji samo u Subotici moglo da se potpuno vidi pomračenje Sunca 1999. godine, a posle toga dugo vremena kod nas nije moguće videti totalitet te pojave, već samo delimična pomračenja", rekao je Ðošović.
---
---
POSLEDNJE VESTI:
Podeli vest
<a class="heateor_sss_facebook" href="https://www.facebook.com/sharer/sharer.php?u=https%3A%2F%2Fbilten.rs%2Fsolc-ne-saljemo-tenkove-kijevu-to-bi-bilo-jako-opasno%2F" title="Facebook" rel="nofollow…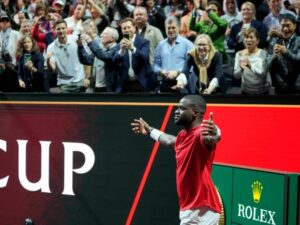 "Tim sveta" je osvojio neophodnih 13 poena zbog čega je otkazan poslednji meč u singlu…