---
Nemam problem da komentarišem "prepucavanja" Terzića i Crvene zvezde sa selektorom Piksijem, ali posle evropskih utakmica, poručio je trener fudbalera Partizana Aleksandar Stanojević
Autor : Bilten.rs , Izvor : Tanjug
Trener fudbalera Partizana Aleksandar Stanojević rekao je danas da nema problem da prokomentariše "prepucavanja" Zvezdana Terzića i Crvene zvezde sa selektorom Draganom Stojkovićem Piksijem, ali da će to uraditi posle evropskih utakmica dva srpska kluba.
Stojković je juče najavio sudsku tužbu protiv Terzića zbog saopštenja crveno-belih posle pobede Partizana protiv Spartaka u Subotici iz VAR penala.
"Ne bežim od komentara. Želeo bih da dam značaj ovoj srpskoj fudbalskoj priči. Igraju nam dva kluba u Evropi, igraju se fantastične utakmice. Hajde da gledamo malo pozitivno. Nije problem, reći ću to drugi put. Dajte da afirmišemo Srbiju, naš fudbal, da budemo ponosni na to što dva kluba igraju proleće u Evropi. Velike stvari radimo. Pričaćemo o svemu", rekao je Stanojević na konferenciji za medije pred prvi meč osmine finala Lige konfernecije protiv Fejenorda.
---
---
POSLEDNJE VESTI: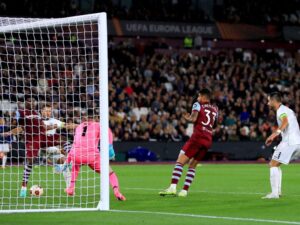 Fudbaleri TSC-a izgubili su večeras od ekipe Vest Hema 3:1 (0:0) u utakmici prvog kola…